Indonesian Journal Editors Workshop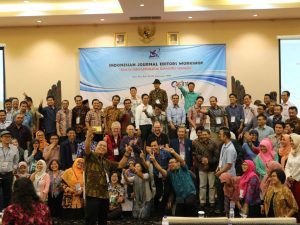 Pada tanggal 27-29 September 2017 Kementerian RISTEKDIKTI menyelenggarakan Indonesian Journal Editor Workshop di Goodway Hotel & Resort Nusa Dua Bali dan mengundang Editor dari 101 jurnal dari seluruh Indonesia yang berpotensi dikembangkan menjadi jurnal internasional, salah satunya adalah SAINS TANAH – Journal of Soil Science and Agroclimatology.
Kegiatan ini untuk memperkenalkan standar indeksasi lembaga pengindeks Internasional.
Acara ini mneghadirkan langsung narasumber dari beberapa lembaga pengindeks internasional diantaranya Web of Science, SCOPUS, DOAJ, ASEAN Citation Index. Selain itu hadir juga narasumber dari PKP sebagai pengembang Open Journal System yang merupakan salah satu platform jurnal yang saat ini sudah menjadi salah stu standar pengelolaan jurnal di dunia, termasuk Indonesia.